Looking to improve the way your modern vehicle handles and performs on the road? Check out our list of services below.
Noticing a change in the performance of your Luxury Vehicle?
There are many perks to owning a German car. From stylish interiors to the incredible engine performance, there is no question to why they are considered a status symbol for many car lovers. However, just like any vehicle, they do have the occasional issue that will come up.
For newer models that have petrol direct engines with direct fuel injection, many cars experience carbon build-up over time. This results in the car experiencing decreased performance, engine misfire, vehicle sluggishness and much more. While carbon build up can be a serious problem, walnut blasting is the solution to getting your car back to peak performance.
The team at GMW Perth are highly qualified and experienced technicians, knowledgeable across all new and old makes of German autos and equipped with top of the line walnut blasting equipment in our modern workshop. No two cars are the same, which is why before we even begin the service, we will perform a full inspection of your vehicle, to ensure that we are taking the right course of action and coming up with a solution that will have your car back to performing it's best.
For more information about walnut, blasting read the FAQ's below or contact the team at GMW with any questions or to book your car in with us today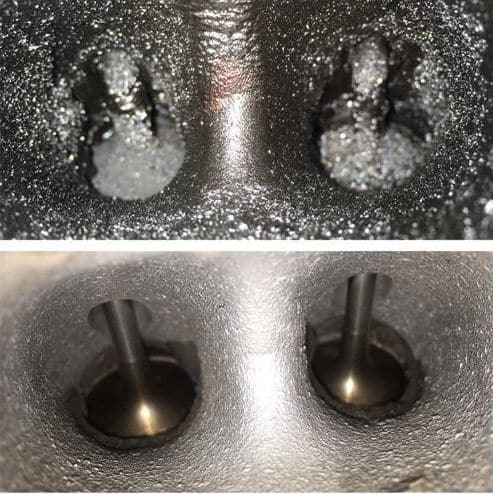 What causes carbon-build up?
When your engine is running it burns fuel and releases fumes and waste by-products like smoke and oil vapour. The more fuel you burn the more fumes are created and pass out of the crank case back through your air intake via the PCV system which over time can block the intake valve ports. This can lead to all sorts of issues with your car's performance.
How can you prevent carbon build-up in direct injection engines?
Carbon build-up can occur for a variety of reasons and over time this build-up will lead to issues with your car's performance. Here's what you can do to stop it to ensure your vehicle operates at its best:
Make sure you regularly schedule your vehicle in for maintenance as it ensures carbon growth doesn't accumulate. As part of a scheduled maintenance, oil should be changed regularly according to the manufacturers recommended change intervals.
Use the correct fuel for your vehicle as recommended by your manufacturer. Fuel that is substandard won't burn sufficiently in the combustion chamber, which will create carbon deposits on the combustion chamber, piston ring groove, spark plug and intake valve back. You can also switch to premium quality fuel with added detergents to clean your engine from deposits and maintain the condition of the engine.
Do walnut blasting semi-regularly
Semi-regularly complete a carbon cleaning service like walnut basting on your vehicle to remove carbon deposits that have accumulated in your engine over time. This will ensure your vehicle operates at its peak performance.
Can walnut blasting damage your engine?
The safest and most efficient way to remove carbon in an engine is with walnut blasting. When carbon forms it is hard and manually takes a lot of work to remove it from the intake valves. Walnut blasting is a more affordable and less time-consuming process of removing carbon without having to strip the engine apart and clean it by hand.
Walnut shells are used instead of other blasting media as they can't damage or alter the metal surfaces inside your engine. They can also be burned which means any bits that remain after a walnut blasting service is completed will burn off once the vehicle's engine is started for the first time.  Also, because walnut shell blasting uses real walnuts, they are a natural, non-toxic and biodegradable material.
Get in touch with us today, to see how we can help with your Walnut Blasting.
Frequently Asked Questions
Navigating the world of car servicing can be confusing for those not in the industry. The team at GMW wants to change this relationship with mechanics and the customers. We're dedicated to not just fixing your car but offering advice and information about the ins and outs of the services required.
Our goal is to make sure you do not only feel more informed about what our team is doing when we work on your car, but also learn a thing or two along the way. With that in mind here are some questions (and answers) that we commonly get asked about our walnut blasting service.

Click on the titles below to expand the FAQ's.